Skip to Content
Dr. Dan Dental's Tooth Implant Services
Dr. Dan Dental provides a host of cosmetic & restorative dentistry services, including dental implants.  This procedure can improve the lives of patients in several ways.  Dr. Dan Dental's implant procedure enables us to restore strength, looks and functionality to jawlines with missing teeth.  Dental implants can help counteract the negative impact that comes with missing teeth.  Whether you have difficulty eating or you feel self-conscious when you smile, dental implants can help.
Cost Breakdown of Implants
Single implant: starting at $2,999.00. This price includes the cost of a 3D x-ray, a single implant and an implant crown. Subject to a consult to determine suitability and if any other procedures are required such as bone grafting.
 Please book a free consult for accurate pricing on implants.
Who Can Get Dental Implants?
You'll need to meet some criteria before Dr. Dan performs the dental implant procedure. For instance, it isn't wise to pay for implants if you aren't willing to care for them (they require even more diligent care than regular teeth.) Also, because implants are inserted deep into the jawline you must have healthy, strong gums and sufficient bone to support the implant. A 3D scan will help Dr. Dan determine if you are a good candidate for implants.
What Are Dental Implants?
Dental Implants are comprised of a titanium post (that acts like the root of a tooth) and a Zirconia crown (that looks and functions like the crown of a tooth).  Dental Implants can be used to replace missing teeth, and can be a permanent alternative to bridges.  With proper hygiene and maintenance they will last for years.  Implants help restore your bite, improve your facial profile, help stabilize your dentures and make your smile beautiful.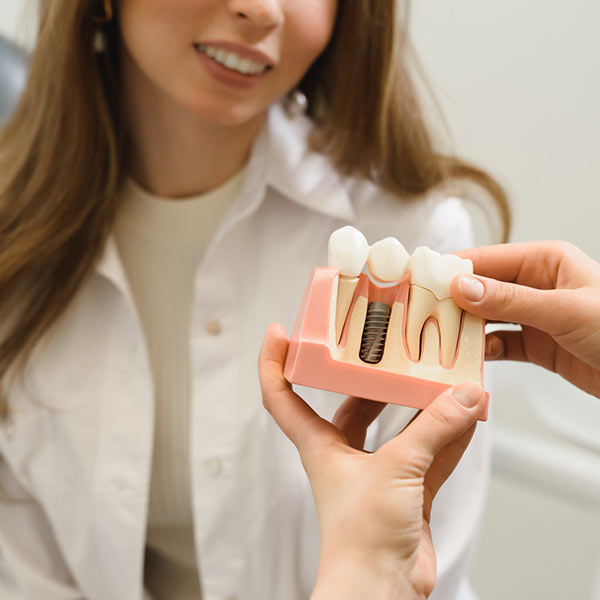 How to Care For Your New Dental Implants
Once Dr. Dan places your implant(s) the rest is up to you!  Implants must be taken care of the same way as your natural teeth with brushing, flossing and regular visits to your hygienist.   Check-ups and x-rays also play an important role in keeping your implants healthy.   Dr. Dan will determine how often you need to visit our office.   For more information about implants at Dr. Dan Dental please contact us for a Free Consult. You can schedule an appointment and get started on your new smile.
How Are Dental Implants Performed?
A titanium screw is inserted into your jaw bone. The screw provides the support for the crown, which is attached in place.  Or the implants may be used to support a denture.  The procedure can take up to 6 months from start to finish.  You should prepare yourself for a variety of steps:
First, we must determine whether implants are an option for you.  We will take a 3D scan and Dr. Dan will perform an extensive examination to help him develop a personalized treatment plan for you.
If you qualify, Dr. Dan may need to start with a bone graft.  Then he will place the titanium screw in your jawbone.  Once the screw is in place Dr. Dan will stitch your gums carefully to cover the screw.  Before we can proceed with the next phase, the tissue must heal, which can take several months.
Once the gum tissue has healed, you're ready for the next step. At this appointment, an impression is taken of the implant to send to the lab to have the crown made. This fabrication can take 3 or more weeks.
At your last appointment, we place the crown. The crown is "screwed" into the titanium post through a hole in the top of the crown and a tiny screw inside. The hole is then covered up with composite (white) filling material.
Schedule Your Next Dental Check-Up at Dr. Dan Dental